8 fairytales of H.C. Andersen
Our range of childrens cutlery in the Fairytale-series is popular as a gift at christenings/ baptisms, birthdays etc. The cutlery has been in production more than 50 years. Knives, forks and spoons are made in both sterling silver and plated brass. The mug is produced in sterling silver only.
The set contains of:
Spoon and fork with 8 different motives from the fairytales of H. C. Andersen
Knife with the portrait of H. C. Andersen and his years on both sides
Mug with portrait of H. C. Andersen on the handle and fairytale motive on the mug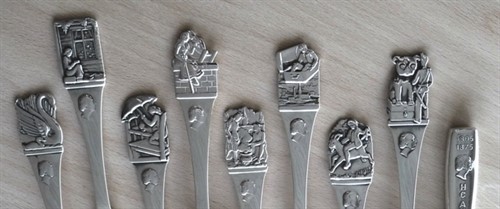 We supply cutlery motives from:
The Ugly Duckling - The little Match-Seller - The Sandman - The Shepherdess & the Sweep - The Swineherd - The Flying Trunk - Jack the Dullard (Clumsy Hans) - The Tinder-Box
When ordering in sterling silver, all pieces are delivered in a cardboard-box with transparant cover incl. a small folder.

When ordering in plated brass, all pieces are delivered with a small folder.
Contact information
How to reach us
Phone: +45 44 94 65 10
e-mail:
We strive to answer all enquiries within 48 hours
Here we are