Politiken - Spis & Bo: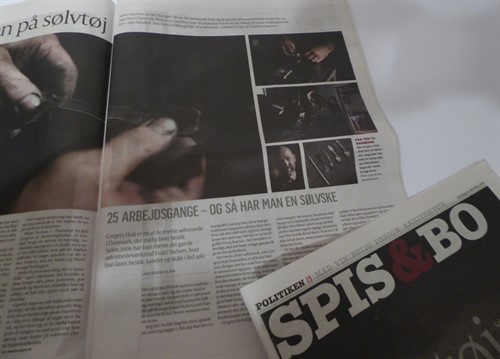 In the fall of 2014 (on sunday, October 19th) the Danish newspaper "Politiken" had an extensive article about silverware. Prior to this article the journalist Lars Hedebo had paid us a visit in the workshop. He was shown how the silversmith produces the beautiful handmade flatware of which the Evald Nielsen silversmithy has been well-known for since beginning of 1900. You can find the hole article at "Politikens" web-site.
Antik & Auktion - the readers vote: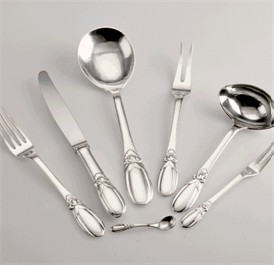 During the fall of 2013 Danish antique magazine "Antik & Auktion" invited their readers to elect the most beautiful Danish produced flatware.
Two of the Evald Nielsen flatware patterns were chosen to compete among other flatware patterns from Georg Jensen, Hans Hansen, Michelsen and Kay Bojesen.
Pattern No. 6 (Vine) and No. 16 (Lily) are both classic skønvirke patterns and they have both been produced from beginning of 1900. They are still in production at the Evald Nielsen silversmithy in Stenløse.
A biografy about Evald Nielsen
- a soloist amidst silversmiths: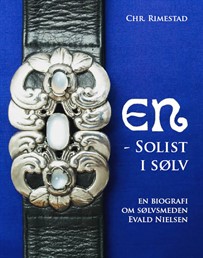 Among experts and collectors the silversmith Evald Nielsen is highly appreciated. This book tells the true story of a unique person in Danish skonvirke (arts & crafts).
Writer and journalist Christian Rimestad has written this biografy about Evald Nielsen. The book shows in words and pictures the life and works of the silversmith Evald Nielsen.
The book is in Danish. However, many parts from it have been published in English and can be found on the Internet.
Publishing house: Books on Demand - ISBN: 978-87-7691-723-4
Contact information
How to reach us
Phone: +45 44 94 65 10
e-mail:
We strive to answer all enquiries within 48 hours
Here we are