On top of his career with a workshop and two stores in the heart of Copenhagen, Evald Nielsen also went into the organisatorial work. In 1918 Evald Nielsen got - unanimously by the committee - elected Master of The Goldsmiths Guild in Copenhagen.
For the next 30 years Evald Nielsen was Master of The Goldsmiths Guild and one of his greatest achievements was the change from a serious split between colleagues in the business to a united and productive cooperation.
In 1920 The Union of Danish Goldsmithmasters was founded with Evald Nielsen as Chairman. Members of the Union were gold- and silversmiths who all had their own workshop and the purpose was to negotiate with the employees own organisations.
In 1920 Evald Nielsen also got elected Chairman at The Confederation of Danish Employers representing all gold-, silver- and plating business in Denmark. The main goal was to demonstrate unity between all employers in the business.
In the years 1918 to 1947 Evald Nielsen was not only committee member but also Chairman of The Copenhagen Goldsmith Guild's Construction society. "Guldsmedegaarden" in Gentofte is an obvious example of his dedication and desire to improve the conditions for the retired gold- and silversmiths. There is a bust of Evald Nielsen in the gardens of "Guldsmedegaarden".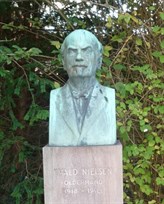 Evald Nielsen dedicated a huge part of his career to associations representing gold- and silversmiths. It is clear that his relations to specifically the apprentices and the old journeymen meant a lot to him. Maybe his own childhood and apprenticeship gave him an understanding that a thorough education and nursing of ones talent was the hole foundation for the profession as a whole. Apart from that he must have experienced older colleagues being pensioned with a lousy pension not having the economics to live a dignified retirement after many years of hard work as a silver- ot goldsmith.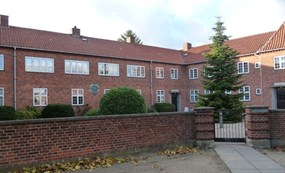 Contact information
How to reach us
Phone: +45 44 94 65 10
e-mail:
We strive to answer all enquiries within 48 hours
Here we are